Katy Huth, 200 hr E-RYT, YACEP, RN
Yoga Journey: Katy started practicing yoga in 2007 to increase her own flexibility and compliment her other workouts. She quickly developed a love for the practice and received her 200-hour certification.
Yoga Teaching Style: Katy has a strong passion to empower others to achieve their goals and looks forward to taking her clients to their edge. At the end of her classes, Katy's goal is to have her students feel relaxed and rejuvenated to assist with healing the mind along with the body.
Outside of Yoga: In addition to owning the studio, Katy is a wife to co-owner Matt, mother of three children and an Emergency Medicine Registered Nurse. Katy enjoys spending time with her family, traveling, singing karaoke, and being outdoors.
Yoga Journey: In 2012, Terri began adding yoga to her weekly workouts to combat stress and improve flexibility. Yoga quickly became a way of life for her.
Yoga Teaching Style: Terri's teaching style is creative and challenging, while focusing on the individual needs of her students. She is passionate about sharing her love and knowledge of her craft with her students in a safe environment conducive to building trust and learning.
Outside of Yoga: Terri works as an administrative medical assistant at The Ohio State University Medical Center in the Department of Orthopaedics. This buckeye is married with two children with the youngest graduating high school this year. She is an animal lover and enjoys volunteering at animal rescues. In addition to yoga, Terri can be found cycling, hiking and rollerblading – anything to be outdoors. Her favorite place to be is on the beach, but any place she can roll out her mat will do just fine.
Favorite Pose: All eka padas
Kelli Parrish 200 hr RYT, Health Coach, RN
Yoga Journey: Kelli's was initially reluctant to try yoga, but after suffering from back pain, she decided to give it a shot. She quickly realized that yoga was so much more than just the physical practice and she was craving more!
Yoga Teaching Style: Kelli's goal is to introduce yoga to as many people as possible! Her classes are based on the fundamentals and she loves introducing yoga to new clients.
Outside of Yoga: Kelli owns her own business as an RN Health Coach and is very passionate about helping people find natural solutions to their health concerns. She is also a dreamer and an adventurer! On the weekends, you will find her and husband hiking, camping, paddle boarding or biking. She loves to travel to new places with one of her goals being to visit every U.S. national park.
Favorite Pose: Tree or side plank
Claudia Hamman 200 hr RYT
Yoga Journey: Claudia began practicing yoga over twenty years ago as a compliment to her active lifestyle. After a serious ski injury to her knee in 2009, she needed to switch to low-impact fitness, and yoga became her new passion. As her body healed, she realized yoga was also opening her mind. Yoga continues to reveal new pathways to spiritual growth, emotional wellbeing, and community connection.
Yoga Teaching Style: Claudia's weekly classes offer meditation, breath awareness, balance work and challenging asanas, sprinkled with a sense of playfulness. She layers ancient wisdom, poetry, mudras, and visualizations into her creative flows. Claudia is a Yoga Alliance certified yoga teacher with five years of experience.
Outside of Yoga Claudia's favorite activities include scuba, snorkeling, bike riding, hiking, decorating, and cooking. She and her husband love to travel and spend time with family.
Tiffany Gavula 500hr RYT, SLP
Yoga Journey: Yoga has had a profound effect on Tiffany's overall health, strength, and self-confidence. Her yoga journey began when her family relocated to Houston. Initially, yoga was a means of getting out and meeting people. Very quickly, Tiffany noticed how yoga was changing all aspects of her life. The love of the practice grew so much that she knew she was intended to spread the gift of yoga by teaching.
Tiffany is a registered instructor (RYT-500) with Yoga Alliance. Her training began at Yoga West in Houston, Texas. Additionally, Tiffany has trained with Robert Boustany, Ricky Tran, Rodney Yee, Colleen Saidman and Jason Crandell. She most recently completed an immersive training with Judith Hansen Lasater in Restorative Yoga and is listed on Judith's Restorative Yoga Teacher Directory as a Certified Rest and Renew® Instructor.
Yoga Teaching Style: Tiffany is particularly interested in making yoga accessible to everyone. Tiffany teaches Restorative, Gentle, All Levels, and Vinyasa Flow yoga. In her classes, special attention is given to linking breath and poses to allow her students to fully experience the union of mind, body and movement.
Favorite Pose: Extended Side Angle
Abbe Straw 200hr RYT, LSW
Yoga Journey: Abbe completed her 200-hour yoga teacher training at Yoga on High in Columbus Ohio and received her yoga certification in 2017. Throughout her training program, Abbe wanted to offer herself time and space to find balance and for overall self-exploration, as well as to be able to bring and incorporate yoga to her professional clinical work with others.
Yoga Teaching Style: Abbe strives to offer space and guidance to others in her yoga teaching to support the exploration of oneself and overall wellbeing. Abbe uses her calm and soft presence to lead a practice to invite students to discover balance, connection and healing through mindful movement and finding their breath. Abbe aims to help students maintain their own pace throughout their yoga journey.
Outside of Yoga: Abbe's passion is helping others to find a place of healing. She is a Licensed Independent Social Worker and currently works as a psychotherapist at a private counseling practice, which she specializes in trauma work. Abbe has experience working with children, adolescents and adults and enjoys working with diverse groups of people in various settings. Abbe has experience teaching yoga in schools, as well as to employees in agency settings. Abbe hopes to continue to share yoga within the community. Loving all things to do with nature, she enjoys hiking with family and friends, especially with her husband and dog. She loves gardening, music, traveling and new adventures.
Favorite Pose: Wheel Pose (Urdva Dhanurasana) Rock Star Pose
Adrienne Sraver 200hr RYT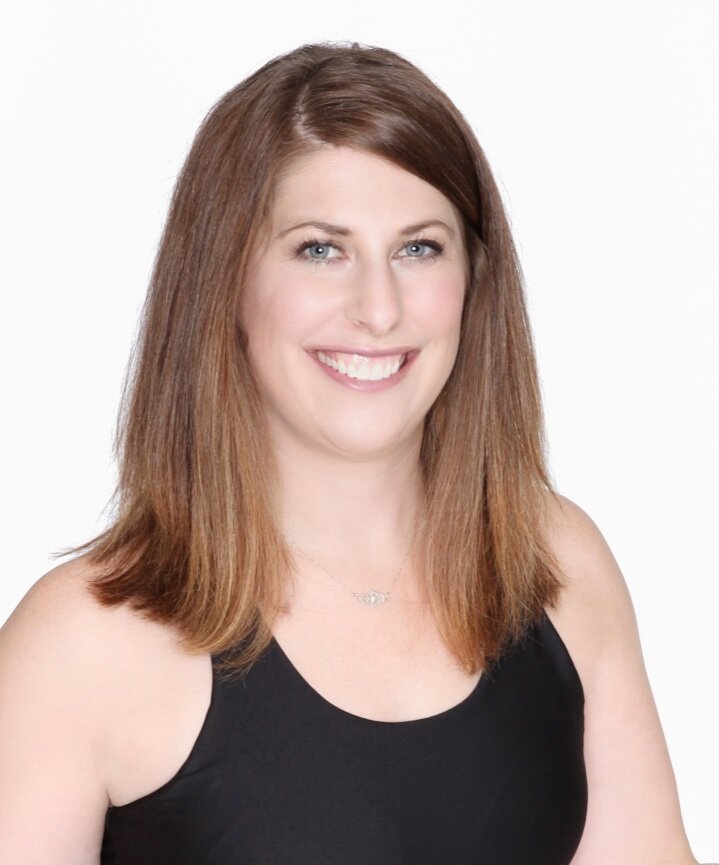 YOGA JOURNEY: Adrienne discovered yoga five years ago when she was experiencing some career challenges and found that the practice offered her the opportunity to slow down. She loved to run distance but found that the time on her mat was a chance to reset mentally. She looked forward to every chance she had to practice so she could dig deeper into her own self-inquiry. After a couple of years, she not only became interested in understanding about posture alignment but the roots of yoga. Adrienne completed her YTT-200 certification in 2018.
TEACHING STYLE: Adrienne focuses on linking breath to movement. She thinks that the start of the practice is when a student stops thinking about the asana part of the practice but what happens for them mentally. She encourages students to understand what they have going on inside their body. Adrienne guides a safe practice that provides thoughtful alignment.
OUTSIDE OF YOGA: Adrienne is a commercial construction project manager by day, but loves to spend time with her husband and two pugs. She loves to travel to other countries and explore different cultures. She loves listening to music, running, baking, volunteering, and architecture. Adrienne is an explorer at heart. She loves to challenge herself to try new things and thinks that every day is an opportunity to create new memories.
FAVORITE POSE: half moon